Should I Get an HVAC Inspection When Buying a Home in Sacramento?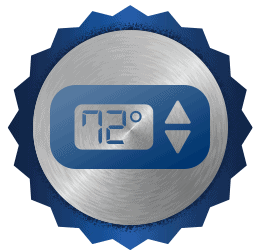 The Sacramento housing market is up in a big way—we've seen an increase of 13.7% to the price of three bedroom family homes in the last year alone. And have you heard about the Amazon development near the airport?
With so many new housing projects breaking ground in the River City, and older, established neighborhoods also experiencing the market uptick, homebuyers should keep HVAC systems in mind when marking off their new home shopping checklists. A simple self-inspection, or professional opinion, could help you reduce the list price of your dream house—and keep you from unexpected repairs after purchase.
Age Matters When It Comes to HVAC
The average lifespan of an HVAC system is around 12 years, but hot Sacramento summers add extra strain to AC units. If the home you are interested in has a system that's more than ten years old, you should plan on replacing it relatively soon. Even if there's an older system in a home that seems to be working fine, the real test is efficiency. Most older systems are working at 60% efficiency or less. If the home you're eyeing has HVAC equipment that is older than ten years, your purchase offer should reflect the fact that you'll have to think of replacing it sooner rather than later.
By contrast, if your new home comes equipped with a modern HVAC system, you can expect to get at least 15 years out of it with proper maintenance. While installing a new system is a large, upfront investment, especially on top of buying a house, you should see savings right off the bat—if your old system cost $100 a month to cool the house, on average you'd save $40 over the same time period. And the more you spend, the more you'll save. If you ask about your HVAC age up front, you may be able to work a deal for a system replacement or ask the seller to consider lowering the list price of the home.
Air Filters Tell a Story
Of course, even if you are considering buying a home with a newer system, that's no guarantee that all is well. If the previous homeowner has records of regular maintenance, you may be able to call the HVAC company who performed the work and talk to them about their service records. However, you may be in a situation where the homeowner did not properly maintain the system. In that case, what is a home buyer to do?
We recommend taking a look at the air filter before you buy. If the filter looks exceptionally dirty and clogged, that's a reasonable sign that the system hasn't been well-maintained. Of course, filters get dirty in the daily course of operations, and it's possible that they just happen to be at the end of their lifespan.
However, it's also possible that the system has been overtaxed, pushing air through a dirty filter for months, and something is about to go very wrong. A dirty filter may be an indicator that the homeowner hasn't done even the most basic piece of HVAC maintenance before they tried to sell the house—and that may tell you a lot about what to expect from the rest of the system. If you spot a dirty air filter, a professional inspection may be a worthwhile next step.
Don't Overlook the Condenser
The outdoor HVAC unit is the most exposed part of the entire system and should be taken care of accordingly. If the home you're looking at purchasing has anything other than a true condenser cover, the unit might have some form of damage as a result—a piece of plywood, plastic sheeting, or some other makeshift protection is really no protection at all. Covers should let the unit breathe, be light but tough, and never come off. They should also help protect the unit from Sacramento's tireless summer sun. If you are concerned about the state of the condenser, there are some general signs you can spot with a self-inspection while viewing the home.
Is the unit dirty? Scraped? Does it appear dinged, dented, or damaged? Grab a flashlight and look inside as well. Is it clean, or is there sludge built up? Are the little metal fins on the outside in good shape, or have they been eaten away by chemicals or damaged by force? Any signs of physical damage may be an indication of the future health of your system. The condenser shouldn't show any of these marks, and, while some debris inside is expected, if you can see lots of sludge or other debris under the fan, you might need to replace it soon after you buy the house.
When In Doubt, Call The Pros
If you have concerns about the HVAC system installed in a home you want to buy, don't hesitate to have a professional come check things out. They'll know whether that condenser is scratched or totally trashed. They'll also be able to see things you may miss, like the condition of the blower motor, or of the ducts for that matter. We can assess whether that dirty air filter or scratched condenser is an easy fix or a cause for concern. So don't wait—call Bell Brothers today and make sure the system checks out in the home of your dreams!