Why the Best Sacramento Installers of Blown-In Insulation Recommend It for Northern California
Bell Brothers has been the go-to expert installers of blown-in insulation in Sacramento homes for years. We offer professional evaluations, consulting, and insulation contracting—everything you need to get a perfect fit. Get in touch with our No Surprise Guys today for a free in-home estimate on blown-in insulation for your Sacramento or Northern California home. Call 916-226-9799 seven days a week. Or, select our online scheduling tool HERE. The price we quote is the price you'll pay—guaranteed.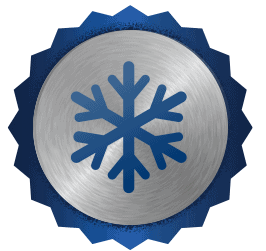 Everyone adores the famous Victorian-style homes in San Francisco and throughout the Bay Area. Those are some very nice houses, sure; I'm not going to deny that. But I would argue that the historical homes in Sacramento are just as impressive, if not more so. My main argument comes down to one simple concept: space. The homes in San Francisco are generally pretty cramped together, but our Sacramento homes typically have plenty of room to breath—and put in a backyard garden.
I've worked in homes all over Northern California and I'm always impressed with the variety of houses we have here, from our own Victorians in Midtown Sacramento to the classic Tudor and villa-style homes in East Sac to the modern tract housing that's been popping up seemingly everywhere in more recent years. All of these homes are diverse, obviously, but in talking about this with a friend the other day, I realized they have one thing in common, at least from my heating and cooling professional perspective: blown-in insulation for Sacramento houses is the best choice.
Blown-in insulation for Sacramento homeowners is such a great fit, regardless of what type of home they have. It's a way to save money on monthly utility bills and, no matter where you live or what style of house you call home, I'm sure that's something you'll want to get behind. The key is finding the right heating and cooling service experts to guide you through the process. Let's explore below why the best Sacramento installers recommend blown-in insulation.
Expert Installer Advice on Blown-In Insulation for Sacramento Homes
One thing we deal with in Sacramento that they don't in the Bay is temperatures closer to both ends of the thermometer. Our Mediterranean climate gives us dry and scorching summers, forcing us to run our AC daily, but also cold and rainy winters so that we have to rely on our furnaces nearly half the year, too. Our climate has us using our HVAC systems most months of the year. There's really no way to change that, but with the right insulation, you can make sure the comfortable, conditioned air your HVAC generates stays inside, requiring your furnace or AC to run less, ultimately lowering your monthly energy bills and keeping your unit from overworking or burning out.
I've already talked about the best home insulation for freezing cold winters and scorching summers, but it's worth going over the types of insulation Sacramento homeowners have to choose from again:
#1: Loose insulation. Loose insulation is made of cellulose—and it's a pretty old technology. You occasionally see it used these days, but I don't recommend it for any new jobs.
#2: Fiberglass batting. This is one of the

best ways to insulate against weather

because it's easy to install and reasonably waterproof, which will be a necessity if the Sacramento area has another rainy winter like the one we experience in 2017. However, it's not designed to fill in nooks and crannies or any spaces that aren't traditional squares or rectangles (i.e. walls at perfect 90-degree angles). So, for many of our unique Sacramento houses, homeowners will want to consider installing blown-in insulation.

#3: Blown-In insulation. Blown-in insulation, also known as foam or spray-in insulation, is ideal for filling in nooks and crannies when a room has hard to reach spaces. This one's a bit more expensive upfront, but this insulation makes a strong case for its long-term value. It does an incredible job limiting gaps and filling in voids around joist bays, as well as breaks near electrical boxes, wiring, plumbing vents, or blocking. You just need to make sure you find an experienced, expert installation company like Bell Brothers to guide you through the process. Correctly installing blown-in insulation, and therefore choosing the best installer, is key to the effectiveness of this type of installation. It is definitely not a DIY job!
Bell Brothers offers expert advice on installing blown-in insulation in Sacramento; we've been the go-to experts in Northern California for decades. Our professional installers will visit your home and provide evaluations, consulting, and insulation contracting—everything you need to up your home energy efficiency game. And, the price we quote is guaranteed to be the price you pay. Get in touch with our No Surprise Guys today for a free in-home estimate. Call us at 916-226-9799 seven days a week or select our online scheduling tool HERE.
Blown-In Insulation and Sacramento Homes: A Perfect Match
The reason that blown-in insulation matches Sacramento homes so well is that, as I've already mentioned, our homes in Northern California come in all kinds of shapes and sizes—and we wouldn't have it any other way! Fiberglass batting and loose insulation are great for square-shaped rooms and 90 degree angles but, in Sacramento, many homes have irregularly-shaped attics and other living spaces that need a more versatile and pliable sort of insulation, like blown-in.
Even in conventionally-shaped homes, though, blown-in insulation is a useful way to fill in gaps around joist bays, electrical boxes, wiring, plumbing, vents, and more. At Bell Brothers, we have decades of experience working with every type of insulation. Our experienced techs can help you select the exact type—or combination of types—of insulation that will be perfect for your home. We'll even give you a free estimate and consultation.
So, yes, we really do have plenty of unique and beautiful homes with character in Sacramento, so many that blown-in insulation is the best and most common choice that I see homeowners make. Its pliable nature makes it a little trickier to work with, however, which is why I highly recommend contracting with an experienced firm like Bell Brothers to help you get the job done right. Northern Californians know how cold and hot it can get over the course of a year. Do yourself and your home a favor and install insulation that can keep the air your HVAC system works hard to make comfortable inside your walls where your family is.
Contact the HVAC professionals at Bell Brothers to schedule your insulation estimate today. And, while we're visiting your home, let us give you a whole-house assessment for energy efficiency. We'll offer recommendations and upgrades that are sure to increase your year-round comfort—and decrease your power bills.
Wondering how to finance a new HVAC system, windows, or plumbing? HERO is a unique financing option that helps California homeowners afford energy efficient upgrades to their home. Contact Bell Brothers, a HERO-approved contractor, to learn more. Our local HVAC, plumbing, and window specialists will walk you through the entire process, from applications to installation.
Image courtesy Pixabay user justynkalp