Home Window Repair in Sacramento: An FAQ on Installing New Windows
Bell Brothers is the best choice for window replacement and installation in Sacramento. For years, we've offered professional and timely service, maintenance, and expert repairs for any and all window jobs. Get in touch with our No Surprise Guys today. We'll be happy to come take a look at your Sacramento home. Call 916-226-9799 seven days a week. Or, check out our online scheduling tool HERE.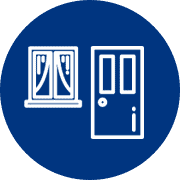 There are two types of home window repair Sacramento projects: projects that homeowners meticulously plan and prepare for in order to replace aging or out-of-date windows in favor of more efficient new models, and the unexpected emergency type—usually undertaken immediately after something has flown through or badly damaged a window. Regardless of which type of project you find yourself undertaking, you want a top-tier window repair and installation company on your side.
Another thing both types of window repair projects have in common? Homeowners have a lot of questions about them. That's why today I'd like to run down a list of some frequently asked questions about home window repair from Sacramento homeowners. Here at Bell Brothers, we have years of experience in not only window repair, but in making the area's best replacement windows for homes just like yours.
So, read up today on home window repair in Sacramento. Learn all that you can about the ins and outs of new window installation projects. And take a look at the many options available to Northern California homeowners for financing these types of projects. When you're done reading, give the pros at Bell Brothers a cal. We'll be happy to help you get started on your project.
Home Window Repair in Sacramento: 3 Frequently Asked Questions
It's only natural that Sacramento homeowners have a bunch of questions about home window repair. Here are the top 3, answered by our experts:
How do I decide between home window repair and installation?
Window repair is often for those unexpected emergencies I mentioned above, while window installation is generally recommended for homeowners looking to increase energy efficiency and curb appeal.
Learn more about how to tell if you need new windows
What type of windows are best for my home?
The exact type, size, and brand of window you should have installed really depends on your home. This is one of the reasons why Bell Brothers is such a good choice: We're the area's best option for custom residential windows. I also highly recommend double pane windows for any and all houses in our region. The increased insulation just makes sense.
Learn more about how double pane windows work
What is the best home window repair company in Sacramento?
We may be biased, but that doesn't change the fact that, when it comes to choosing the best window replacement and repair company in Sacramento, Bell Brothers is the clear choice. We have years of experience building custom windows for the many types of homes in Northern California, and our experts can help you make the best possible decisions for your home.
Bell Brothers offers custom window installation, repair, and design services for homes of all kinds in Sacramento, as well as estimates and project evaluations. Our experienced window experts would be happy to give your Sacramento home an informational visit, free of charge, anytime. Just call the No Surprise Guys at 916-226-9799. We're available to offer our expert advice 7 days a week. Or, use our online scheduling tool HERE. The price we quote for your project is the price you'll pay—guaranteed.
Financing Options for Sacramento Home Window Repair
One of the many great things about being a resident of Northern California is that there are many home upgrade financing options available in our area. In general, these are programs that will give you interest-free loans up front to make additions to your home that will help it to become more energy efficient. Luckily for our purposes today, these additions include energy efficient windows.
I've talked often in the past about the many different home energy efficiency financing programs here, but I don't think it hurts to list them again today. These programs include PACE, HERO, CaliforniaFIRST, SMUD, and Ygrene energy efficiency financing. You can learn more about energy-efficient financing programs from the experts at Bell Brothers. We'd be happy to come out to your home and help you navigate the process of choosing a financing partner.
You can learn more about energy-efficient financing programs from the experts at Bell Brothers. We'd be happy to come out to your home and help you navigate the process of choosing a financing partner.
As you've no doubt heard in the past, the windows are the eyes of the home. Sharp looking and energy efficient windows can really do wonders to boost the curb appeal—and ultimately the property value—of your house, whether you're investing in them because your old windows have worn out or you've had an unexpected broken window emergency.
The most important part of having windows repaired or installed is to make sure you're working with the best window installation company in your city. That's where Bell Brothers comes in. Not only do we have a long track record of making the region's best custom windows, we are also experts on all of our various energy efficiency window financing programs. So gives us a call today and get started on upgrading your windows!
Contact the window installation pros at Bell Brothers today to schedule a free consultation, and to get some clear-as-glass answers on window replacement and installation in Sacramento. At Bell Brothers, our trained window installation professionals would love to help you make your home more energy efficient by installing double pane windows—or a smart thermostat.

Wondering how to finance new windows, or even a furnace or plumbing upgrade? HERO is a unique financing option that helps California homeowners afford energy efficient upgrades to their home. Contact Bell Brothers, a HERO-approved contractor, to learn more. Our local HVAC, plumbing, and window specialists will walk you through the entire process, from application to installation.
Image courtesy CHOReograPH