How to Optimize Your Stockton Historic Home for Energy Efficiency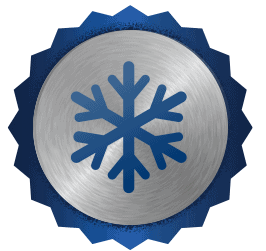 I know I'm not the only Stockton resident that loves our city's restored historic homes—their unique details are often impossible to recreate in the modern houses of today. Unfortunately, some of the things that make them so special may also make it harder to keep them cool.
We see average summer temperatures ranging from 89-93°F and older homes, like those in the Magnolia Historic District, may find it especially difficult to cool down efficiently because of their poor insulation and aging HVAC equipment. But, there are ways we can increase a historic house's efficiency while maintaining the classic features that are at the heart of these homes.
Historical Methods of Air Conditioning
The Magnolia Historic District houses, like the rest of Stockton's historic homes, feature architecture styles popular from 1860 to 1920, including Queen Anne, Eastlake, Spanish Revival and Classical Revival. Many of these styles were built before the advent of modern HVAC systems and had to use passive methods for heating and cooling. Let's delve into some of the common architectural elements that were used to cool these older houses, and modern upgrades that can increase a historic home's efficiency—without sacrificing its architectural appeal.
Wrap Around Porches
Queen Anne and Eastlake style homes were known for their wrap around porches. As lovely as they are, they weren't just for sitting and enjoying a glass of tea. They also provided shade to the exterior wall and windows of the home.
A modern take on the porch is something you might not expect—solar panels. Not only do they generate solar energy for your home, but they can also help shade your roof and absorb heat in the same way as a porch would. And, when installed correctly, they won't damage your historic home's roof, or affect the architecture.
Transom Windows
Transom windows were used widely in all styles of historic homes above door frames and entry ways. Not only are they often beautiful, with stained glass cut into ornate designs, but they are functional too—they can be opened to allow air to circulate from one room to the other.
Vents are now used in modern homes to circulate air throughout the house. In addition to airflow, they also allow light to travel into interior parts of a home and reduce the need for artificial lighting, which is a bonus for energy efficiency. And, improving the ventilation of your historic home may actually help protect its roof from damage.
Wood Framing
Wood was the material of choice for all homes in the late 1800s—especially our local redwoods, which are particularly hardy and resistant to the elements. However, wood frame houses have the potential for leaks and rot, and often lacked insulation. And that means more hot air in and cold air out.
Today, we have access to a variety of insulation materials that can help secure your historic home from air leaks. Installing insulation in walls and attic spaces in a historic home that has had little to no insulation material could save you at least 15% on your utility bill annually. Insulating an attic, in particular, is one of the cheapest home upgrades, in comparison to the energy savings you will see as a result.
Single-Paned Windows
Single-paned windows were standard in historic homes, and are still used widely today. But even single-paned windows in good shape can account for 30% of a home's summer cooling energy use. Old windows also begin to develop air leaks as their seals shrink and crack with age, adding to their inability to insulate a home.
Replacing your historic house's single-paned, cracked, or unsealed windows with modern double-paned windows will provide added insulation to your home and can also help it reflect some of summer's heat—all adding up to big energy savings.
White or Light-Colored Exterior Paint
Spanish Revival and Classical Revival style homes were most often painted either white, or a very light color on the exterior. This was the fashion in the last 1800s, but it also served the purpose of reflecting the sun's rays.
Darker, richer exterior colors are becoming more popular now, so historic home owners who love grays and blues can explore some of the methods we mentioned above to improve efficiency—especially keeping the roof cool by installing solar panels or replacing old windows with double-paned ones. Both of these solutions will help offset the added heat a darker exterior color may contribute to your home.
High Ceilings
High ceilings are common in many of the homes of the Magnolia Historic District, and for good reason. Hot air in the summer that managed to make its way through windows shaded by the surrounding porches would mix with the cool dense air in the house and raise to the top of the room.
A great method to assist this type of passive cooling is to install vents in corridors or areas under an attic space and then have an exhaust fan purge the air from the attic. Fans are an important part of any HVAC system and while a whole-house fan may be a great way to support the efficiency of your home's architecture, you will want to seek the advice of a local HVAC contractor before installing one in your historic home as there are some specific factors to consider for this upgrade.
Modern materials and technology can be used to keep the integrity and beauty of Stockton's historic homes while helping to effectively and efficiently cool them. It starts with a little knowledge of your home's design and architecture—by taking a whole-building approach to cooling your house, you can relieve stress on your air conditioner and help lower your electric bills.
We also recommend that you perform scheduled inspections of your HVAC system. Historic homes may require a little more investment to get them energy-efficient, but you'll see returns as soon as your next electric bill, as well as in your comfort level during the extreme heat of our summer months.
Contact the trained professionals at Bell Brothers for all your HVAC needs, whether your house is modern, historic, or anything in between.