5 Common Reasons Why the Furnace in Your Waterford Home Failed to Ignite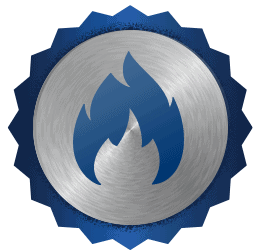 Waterford is the "Gateway to Recreation," and around here, we all love being in the great outdoors. But, with temperatures getting brisker as fall sets in, we may all start spending more time inside than out. Soon, we'll start lining up for our pumpkin spice lattes at Beans Coffee Company, and pull out the thick comfy blankets to snuggle under while we watch movies on Monday Family Nights. But hot coffee and a warm blanket can only do so much for us if the furnace won't turn on—there is nothing worse than coming in from the cold to a house with no heat.
Let's be honest, we often don't think about whether or not our furnace is in working order until we crank it up for the first time after temperatures take a dip. That's why knowing the most common reasons why your furnace won't light can help you find the solution quickly, so you can get back to enjoying your cozy home.
The 5 Most Common Problems With Your Furnace Ignitor
So, you just came in from the 5th Annual Trunk or Treat, and there's a chill in your home that wasn't there when you left. Before you blame it on ghosts pulling a Halloween ruse, start with a basic checklist of reasons why your heat might be off.
First, check the power. If there was a power surge, you may need to flip the breakers for the furnace. Next, you want to check your home's thermostat. Sometimes your thermostat will return to factory settings if it has lost power. Also, check for loose connections and whether or not your furnace's own thermostat is actually calling for the heat to come on.
If you're still feeling a chill after those simple steps, it's time to troubleshoot your furnace. The common causes I see for a faulty ignition are:
A Broken Ignitor:

It could be from age, dirt, or normal wear and tear, but your ignitor could be done. If you think this is the culprit, investigate it for physical signs of being in disrepair. Often a break in an ignitor switch will be indicated by white residue around a cracked area.
A Full Condensate Pan:

If the condensate pan for your furnace is full, your furnace will not come on. Your pan likely has a float switch that will alert you, as a safety measure, if the pan is full of condensate and needs to be drained. If your float switch is stuck in the "up" position, and water is not draining, then it will prevent your furnace from coming on.
A Broken Control Board:

This is the brain of your furnace and controls many, sometimes all, of its components. If the control board is broken, it will not give the command for each component to get to work. On your control board, there will be a little LED light associated with each component. If in working order, that light will turn green. If these little lights aren't coming on, it is a good indicator that something is wrong with your control board.
A Clogged Vacuum Tube or Filter:

Your furnace should have a vacuum tube, or a pressure switch tube, attached to the vent exhaust. This tube will read a negative pressure to let you know that the gases from your furnace are being exhausted out of your home. If this tube gets clogged, or has a buildup of moisture, the safeties on your furnace will not allow it to ignite. The same is true for a clogged filter—both are safety measures to keep your furnace from becoming a fire hazard.
Low Fuel Level or out of Fuel: Don't forget to check your fuel. Running out of gas or oil is a much easier fix than replacing or repairing damaged parts. If the gas valve is not all the way open, this could mean your furnace has run out, or isn't getting any, gas or fuel.
How to Prevent Furnace Ignition Failures
Benjamin Franklin said, "If you are failing to prepare, you are preparing to fail." This is often applicable to home maintenance—homeowners can help prevent a faulty furnace by:
Change Filters Regularly: Don't wait until your furnace stops working—changing filters on a monthly basis is a good rule of thumb.
Check Fuel Levels: If your gas is turned off, or oil levels are low, your ignitor will be overtaxed when it tries to light.
Schedule Yearly Maintenance: Perhaps the most important preventative measure for the health of your furnace is a

yearly service call

. Having an experienced HVAC expert inspect and service your system once a year is the best way to keep all parts of your furnace in tip top shape.
Do's and Don'ts If Your Furnace Does Fail to Ignite
Even with the best preventative measures in place, your furnace might call it quits one day. While we all might like to fancy ourselves handymen, sometimes there are problems that are best dealt with by the experts. But, there are some basic things homeowners can tackle, like:
Changing out air filters

Cleaning the vacuum tube

Draining the condensate pan

Checking your float switch
Replacing furnace parts may take a bit more than general knowledge, though. Otherwise, you could end up paying for it to be fixed twice. Call your local HVAC professional if you suspect issues with any of these furnace components:
The ignitor

The control board

The fuel switch
Chances are, if one of those parts is giving you trouble, the experts can give you an accurate diagnosis and repair in less time and investment than you'll put into it yourself. And, if you smell gas, always get out of the house and call an expert immediately.
If you're like me, you're excited for the shorter, cooler days fall is ushering in. But, as it gets colder, I think we can all agree that none of us want to wake up or come home to a freezing house. Take the time to get to know your furnace so you can recognize the signs of a broken part—and know when it's best to call a professional. The experts can ensure that the right parts are installed the right way to guarantee your furnace keeps your home cozy during our chilly winter months ahead.  
If your furnace fails, you can rely on the trusted professionals at Bell Brothers to troubleshoot and repair your issues quickly and affordably, so you don't get left out in the cold.