A Central Air Spring Startup Checklist for Northern California
One of my favorite things to do when I get some time off is to throw the kids in the car and head on out on the open road for a family vacation. Although, "throw the kids in the car" makes it sound a whole lot easier than it is! All you parents out there know that there's actually a lot of preparation that goes into family vacations, from hotels to transportation to sightseeing to getting the kids to pack matching socks.
So, what I've taken to doing when we begin to plan a family vacation is to make a checklist and stick to it. Funnily enough, it's also how I advise homeowners to prep their central air for spring, by making a central air spring startup checklist. With warmer weather just around the corner, I am going to share my central air spring startup checklist for Northern California so that your family can stay nice and cool all season long, especially if you opt for a staycation this year!
Central Air Spring Startup Checklist
Few things are worse than having your central air system fail you in the middle of a hot Northern California summer day. The good news is, it usually only happens if you haven't properly prepared your central air system for the hard work it is going to do all summer long before starting it up in spring. Trust me when I say that setting your AC up for success before the first heat wave rolls in is the key to keeping it running smoothly all spring and summer long.
Here's my central air spring startup checklist:
Change your air filter
Check electrical circuits
Inspect outdoor unit for damage
Check refrigerant lines
Checklist Item #1: Change Your AC's Air Filter in Spring
Firing up your central air system with a dirty filter is no way to get the hot season off to a fresh start! Dirty, clogged filters not only make your entire HVAC system much less efficient, but they can cause a total breakdown of your unit because it has to work much harder than it should to pull in air. Be sure to change out your filter before you turn on your system and keep changing it every one to two months for optimal efficiency. I always say that air filters are Sacramento summer's MVP, so make sure you treat them that way! And, if you don't want to keep track of this chore, let a local HVAC company, like Bell Brothers, do it for you. We'll put it on our schedule, so you can remove it from yours.
Checklist Item #2: Check Electrical Circuits for Central Air to Make Sure They're on
Believe it or not, I've received a lot of calls from homeowners who can't get their central air started in the spring only to discover that it's because they haven't turned the circuit breakers on. Keep in mind that your indoor and outdoor units have different breakers, so you're going to want to make sure both are turned on. Typically, the outdoor unit will be labeled "air conditioner" on your electrical panel, while the indoor unit will be labeled as "air handle" or "FAU," which stands for "forced air unit."
Checklist Item #3: Inspect Outdoor AC Condenser Unit for Damage Each Spring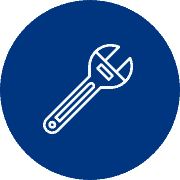 Dirt, sticks, leaves, and other debris all have a tendency of collecting in and around outdoor AC condensers, so make sure you give your unit a little TLC to avoid any clogs or obstructions to airflow. I like to give it a gentle spray with a hose to remove debris on the coils and clean up the area around the condenser by trimming any weeds or clearing away leaves. I don't recommend covering your air conditioner during winter, but if you do, be sure to check for signs of mold as moisture tends to accumulate on the condenser when covered.
Checklist Item #4: Check the Central Air Refrigerant Lines
While you're outside cleaning your outdoor unit, take a moment to look at the refrigerant line that runs from inside the house to your condenser. Make sure that the insulation is intact. If it isn't, there could be condensation or ice on the copper pipe which can lead to damage and mold growth. It's also a good idea to make sure that your refrigerant levels are okay, but doing that yourself is potentially dangerous business so you're definitely going to want to give an experienced HVAC pro a call to do it for you. They'll also be able to safely top up refrigerant levels if your system is low.
Why You Should Call a Pro to Perform Your Central Air Spring Startup
Just like getting ready for a family vacation, performing a central air spring startup isn't easy—even if you've covered all of our checklist items. That's why it's a good idea to call an experienced HVAC professional who can do all of the above tasks—and so much more—for you. Not only does getting a pro to do it save you time, it also gives you the peace of mind that your system is safe and in good shape to last through the warmer months at peak efficiency.
And, while the pros tune up your system, they can also fix any minor problems—before they turn into bigger ones that could potentially ruin your cool summer plans.
And, while the pros tune up your system, they can also fix any minor problems—before they turn into bigger ones that could potentially ruin your cool summer plans. It's really a good idea to have this done at least once a year anyway, and the perfect time to do it is right before you switch on your central air for the season. Since having professional central air maintenance done means you won't have to worry about your central air for the rest of the summer, you'll have more time to plan your family vacation. Just don't forget to make a checklist for that, too.
At Bell Brothers, our trained HVAC professionals would love to help you make your home as comfortable as possible this summer by helping you with your central air spring startup. Contact us today to schedule a free in-home consultation.
Wondering how to finance your home upgrades—like a new AC unit? HERO is a unique financing option that helps California homeowners afford energy efficient upgrades to their home. Contact Bell Brothers, a HERO-approved contractor, to learn more. Our local HVAC, plumbing, and window specialists will walk you through the entire process, from applications to installation.
Image courtesy Unsplash user Glenn Carstens-Peters