How to Make Life More Comfortable This Winter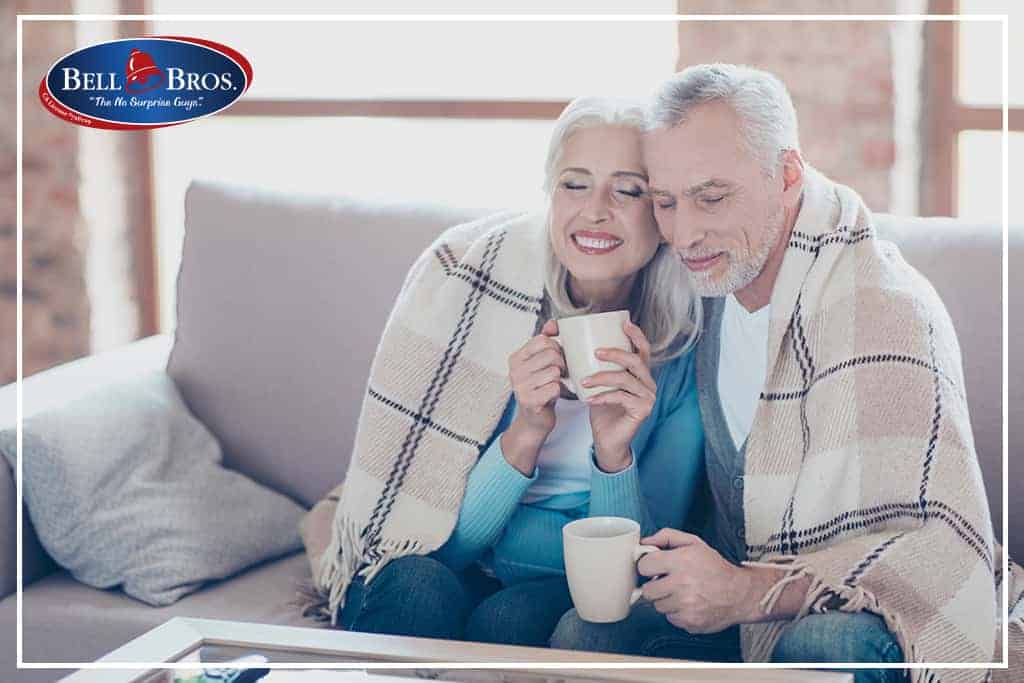 During the day, when the sun is shining, staying comfortable is probably the farthest thing from your mind. However, nights in California can get chilly; temperatures can drop 30 to 40 degrees between the high of the day and the low. When the sun goes down, you probably bundle up and think, "How can I make life more comfortable this winter?" It's simpler than you might imagine: You don't have to replace your furnace or crank the heat so high that it burns a hole in your wallet. You can focus on small changes that lead to a big difference. Here's how to make life more comfortable this winter:
Improve Indoor Air Quality (IAQ)
With the harsh chill of winter comes a dryness you can't seem to escape. Your skin cracks, your hair holds static electricity, and you may even experience nose bleeds. This just goes to show that comfort during the wintertime doesn't always involve cranking the heat.
You can improve the humidity in your home by focusing on your indoor air quality (IAQ). If your home is dry in the winter, it could be due to air leaks, through which the wintery air is seeping into your home and stealing moisture from your interior environment.
One way to improve IAQ is by having your windows inspected and resealed. Usually, air leaks can be found in old window sealant. Another way to improve IAQ is to contact an HVAC specialist.
Bell Brothers not only offers window services and replacements, but they also perform HVAC services. Our technicians know how to inspect your windows for air leaks, and they know the Ins and OUTs of home air ventilation. We can improve your indoor air quality in no time.
Schedule a Furnace Tune-Up
If you have the heat on high in the evenings and still feel uncomfortable, you might be worrying that you have to replace your furnace. Don't start prowling for new units yet, though. It's possible that your furnace needs a tune-up. Just like your car runs better after an oil change, so too does your furnace run smoother after it's been maintained by a professional HVAC technician.
At Bell Brothers, we offer a 30-point furnace inspection and tune-up to help make your life more comfortable this winter:
Check/clean flame sensor
Check and monitor indoor blow motor amps
Check and monitor inducer motor amps
Check blower wheel for even run
Check burners for proper burn
Check capacitor(s)
Check electrical wiring
Check for gas leaks within 10 feet of the equipment
Check for proper airflow
Check high voltage and low voltage connections
Check hot surface igniter or pilot light
Check pressure switch
Check safety devices
Check safety pan/drain lines/platform
Check safety shut off valve
Check temperature rise
Check thermostat for proper operation
Clean blower wheel compartment
Clean burners and orifices
Inspect/clean air filter
Inspect ductwork for leaks
Inspect plenum or distribution box
Inspect evaporator coil and pan
Inspect exhaust flue for proper fit and venting
Lubricate indoor motor
Measure static pressure return and supply
Safety inspection on heat exchanger and faceplate
Set gas valve pressure
Verify airflow
Inspect furnace compartment
Have your furnace tuned up by a professional Bell Brothers HVAC technician for just $87, with our current special.
Update Your Home Insulation
When the sun goes down and you need to venture into the outdoors, you'll grab a coat before heading out. Do you grab a thin coat or a coat that offers full protection from the biting breeze? Of course, you'll take the one with a thicker lining. In the same way a sturdy winter coat can guard you from chilly winds, your home's insulation protects your interior rooms from the same threat.
Don't suffer through cold drafts or high energy bills this winter. Have your home's insulation updated. Just like anything else, your home's insulation can wear down and become less effective over time. Replacing it will restore your home to the comfort it once knew.
Not only does Bell Brothers offer expert HVAC services, but we also offer insulation services. We have three different types of insulation for you to choose from: fiberglass batting, loose fill cellulose, and spray-in foam.
Replace Your Windows
By now, you know that windows can experience air leaks through cracks in worn-out sealant. However, if you have single-pane windows, you could be experiencing more discomfort this winter than necessary. Double-pane windows serve as an added layer of protection from harsh winds and other elements, keeping you safe and cozy in your home.
Other Benefits of Having Your Windows Replaced:
Save on your energy bill by not letting warm air leak from your home to the outdoors.
Save in the long-run by not throwing money into the wind (or at your energy bill).
Upgrade your home's exterior design
Bell Brothers offers whole-home window replacements at an affordable cost. Currently, we're running a special for 10% off the total price, with a minimum of 5 windows replaced. We're also offering a free replacement for your entry door when you replace 10 windows or more. Call now for more details!
Flush Your Water Heater
The only thing that's worse than being cold in your own home in the wintertime is also having to stand in cold shower water. At the beginning, the shower water was hot and offered respite from the cold, but within minutes, the temperature started to shift, getting colder and colder. You have no other choice but to stand there in the freezing spray because you still have conditioner in your hair.
This doesn't have to be your story anymore. You may have put off fixing the problem because you've been worried that your water heater may need replacement, and you don't currently have the cash on hand. Don't fret! The solution could be a simple water heater flush.
This process is fairly complicated and best left to the professionals. Bell Brothers is here to help you during this difficult time. When you call to have your water heater flushed by a professional Bell Brothers plumber for just $67, you'll also receive a plumbing inspection for FREE.
Schedule Drain Clearing Services
If your neighborhood has been hit with a freeze warning, it can make you anxious. You know that your plumbing system hasn't been up to par lately; the water has been slow to flow and you've had issues with drain clogs in the past. The reason you're advised to let your faucets drip during a freeze warning is because moving water can't freeze. But if a clog in your drain or main sewer line is keeping your water from moving as it should, well—you could have a big mess on your hands.
Here's the last way to make life more comfortable this winter: drain clearing services with Bell Brothers! With our current specials, Bell Brothers is offering drain clearing services for just $87.
Why Choose Bell Brothers
Bell Brothers is more than an HVAC company. We also offer expert plumbing, window replacement, water heater, and home insulation services. All of our technicians have a wide range of skills, are knowledgeable of the home service industry, and practice exceptional customer service.
Other Reasons to Choose Bell Brothers
Free in-home estimates
Home delivery and installation
20 years of service to the area
Yearly inspections, maintenance, and tune-ups
Ready to schedule services with us? Just call the number at the top of the screen. One of our friendly Bell Brothers representatives will be with you shortly!