The Recommended Baseboard Heater Clearance: Safety Tips for Your HVAC This Winter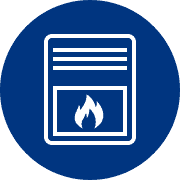 I'm just going to come out and say it: most homeowners don't know some of the most important basic tips for keeping their homes and furnaces safe in the winter. Sure, they know how to turn their furnaces on, how to adjust the thermostat, and maybe even how to change the filter every few months when it starts to get overworked and dirty. But, HVAC safety tips are often far from their minds.
That's what I'd like to address today. Anyone who lives in the Sacramento area knows that our winters are wet and cold. We don't get snow and we almost never get freezes, but we definitely need to run our heaters. Homeowners tend to ask me the same few questions each winter about heating and cooling safety, with one really standing out from the pack: What is the recommended baseboard heater safety clearance?
Ensuring that you're operating your heater with safety is a relatively easy undertaking, but that doesn't negate its importance. Without further adieu, let's get to the safety tips about heating that you simply must know this winter—especially if you have a baseboard heater in your home.
The Recommended Baseboard Heater Safety Clearance for Your Home
If you're using a fan or other installed heater instead of a furnace, the recommended baseboard heater safety clearance is at least 12 inches. However, there are other safety recommendations you should follow with this sort of heater, as well. These include clearing three feet in front of your baseboard heater, six inches to each side, and 12 inches above it. I would, without question, measure out this space to ensure no furniture or other household item is within it. This is basic fire safety; you don't want to take any chances.
…the recommended baseboard heater safety clearance is at least 12 inches.
I also generally recommended against using baseboard heaters if you can help it, and suggest, instead, having a furnace or HVAC system installed in your home. Not only are they safer, they're more energy and cost-efficient as well—which is why California offers so many financing options to homeowners looking to make an upgrade.
Of course, there are some safety tips for furnaces and HVAC units as well, which brings me to our next section…
Winter Furnace and HVAC Safety Tips You Can't Ignore
I would say that, in general, furnaces and HVAC systems overall are pretty safe. But, that doesn't mean there aren't some safety tips for your HVAC that you should make note of this winter. In fact, I've prepared a top 3 list:
Get your ducts cleaned:

I've talked about

how often to get your ducts cleaned

before, but when it comes to winter HVAC safety, the answer is regularly. Debris and clogs in your ducts and vents can lead to unsafe and potentially fiery conditions. My advice is to call an HVAC professional to come out and make a recommendation for a cleaning schedule.

Don't skip maintenance checks:

This is one of my

top HVAC maintenance tips

—it really is a critical one. During a maintenance check, an HVAC pro will do things like make sure your vents and ducts are clear, make sure your filter is clean, and generally check for other potential problems as well. When it comes to safety tips for your HVAC this winter, this is easily the most important one.

Take a whole home approach to energy efficiency:

Another potential safety issue has to do with overworking your furnace. This can happen if you have poor insulation, leaks around your windows, or problems with poorly sealed ducts. Taking a whole home approach to

furnace and energy efficiency

by enlisting the guidance of an HVAC expert will ensure you don't suffer from any of these energy-sucking and potentially dangerous problems.
How to Ensure Baseboard Heater and Furnace Safety This Winter
As you may have guessed from my list above, the best course of action if you have questions about baseboard heater, furnace, or HVAC safety this winter is to call a trained heating and cooling professional. Whether you want to know what the recommended baseboard heater safety clearance is, or you just want to make sure that your own setup is in working order, an HVAC pro will be able to address all of your concerns and needs.
With many HVAC companies, you can also get set up on a regular maintenance schedule. That way, you can focus on everything else in your life, trusting that your furnace will be in safe working order each and every winter. It's heating equivalent of putting paper towels on automatic order with Amazon. You have to have them—but you don't have to think about it.
Yes, heater safety is important each and every winter. If this is a concern of yours—and it really should be—I hope you've found our blog today helpful. If there's one thing I want to stress, it's that working with an experienced and local HVAC professional is the single most efficient way to ensure that your baseboard heater or furnace will be safe this winter.
At Bell Brothers, we're community locals. We've been helping folks in Sacramento take care of their heating and cooling problems for years, from providing safety tips to helping them out with estimates and inspections. Contact our team today to schedule a free in-home consultation for any of your HVAC needs.
Wondering how to finance a new furnace, or maybe even new windows and plumbing? HERO is a unique financing option that helps California homeowners afford energy efficient upgrades to their home. Contact Bell Brothers, a HERO-approved contractor, to learn more. Our local HVAC, plumbing, and window specialists will walk you through the entire process, from applications to installation.
Image courtesy stockphotofan1