Soundproof Replacement Windows for Stockton Homeowners Who Love the Quiet
Bell Brothers has been the go-to expert on soundproof replacement windows in Stockton, CA for years. We offer professional estimates, installation, and contracting—everything you need to get the job done right. Get in touch with our No Surprise Guys today for a free in-home estimate on soundproof replacement windows for your Stockton home. Call 916-226-9799 seven days a week. Or, select our online scheduling tool HERE. The price we quote is the price you'll pay—guaranteed.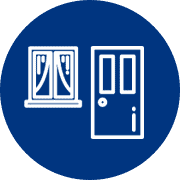 I have a good friend who is lucky enough to have a job where he gets to work from home as a web designer. Recently, he got married and moved to Stockton to be closer to his wife's family. Some of his new neighbors are pretty noisy, though, playing music and making a ruckus outside while he's at home working on website designs. He's had a hard time concentrating, as you can probably imagine but, luckily, I had some advice for him. I told him not to worry, that soundproof replacement windows for his Stockton home will have things back to the peace and quiet he needs in no time.
What my friend needs is an experienced window installation company to come give him an estimate, and then get started on replacing his old single panes with soundproof, double pane replacement windows. Really, soundproof windows are a good idea for anyone, even if you don't have particularly noisy neighbors, because they also tend to be the most energy efficient windows as well. Their insulation keeps out noise while keeping the conditioned air from your HVAC system sealed in your house. You just need to find the perfect window installation company, like the local Sacramento experts at Bell Brothers, to help you navigate the replacement and installation process.
Soundproof Replacement Windows for Stockton Homes: The Basics
When I brought up soundproof replacement windows to my friend in Stockton, he gave me a look that said he didn't believe me that this was a real option. He's not alone here. I've actually talked to more than a few homeowners in my time as a window installation expert who have never heard of soundproof windows (Get it? Heard of… Anyway…)
For people who want to keep outdoor neighborhood noise from seeping into their homes, I think this whole concept seems a little too good to be true. It is true, though, made possible by dual pane windows, which have many advantages and benefits.
Like the name suggests, double pane windows are made up of two panes of glass, either tempered or laminated, held together in a single frame. Rather than sitting tight against each other, though, these panes are separated by a cavity created by spacers. That cavity is either a sealed vacuum or it's filled with a non-toxic gas such as argon, which allows them to not only be soundproof, but highly energy efficient as well!
Bell Brothers offers custom soundproof replacement windows for Stockton, CA homes. Our experienced window installation experts can help you get started on the replacement process today. Just call the No Surprise Guys for a free estimate at 916-226-9799. We're available to offer advice 7 days a week at your convenience. Or, use our online scheduling tool HERE. The price we quote for your project is the price you'll pay—guaranteed.
The Benefits of Double Pane, Soundproof Windows for Stockton Homes
Now that you know how double pane windows work, let's took a quick look at some of the major benefits:
Energy savings:

Stockton has four diverse seasons. Summers are hot and arid, while winters are wet, rainy, and cold. This means both air conditioners and furnaces get excessive use. A home's HVAC system relies on its windows to help keep that conditioned air in. If the indoor air can easily pass outside through single pane windows, or ones with broken seals, the HVAC system will be forced to work extra hard to generate more warm or cool air to keep a home in a comfortable temperature range, burning more energy than necessary. At Bell Brothers, we're always working hard to help our customers save more by taking a whole home approach to energy efficiency, which makes us an excellent fit to handle your window replacement job.

Increased curb appeal and home value:

Having new windows installed may be an upfront expense, but it also adds additional value to your home. Concerned about financing options? Most of Northern California is eligible for

Hero Energy Efficiency Financing (HERO)

. With HERO, Northern California homeowners can upgrade their home's overall efficiency through special financing dedicated for the purposes of installing solar panels, updated HVAC systems, low flow plumbing, and—ding-ding-ding!—double pane windows. Homeowners in most of our area are eligible for HERO, including in Stockton. Here at Bell Brothers, we have a lot of experience helping homeowners through the HERO application process, which is another reason we're a great choice to install your replacement windows.

Noise reduction:

If you're like my friend, you actually do like your neighbors, but that doesn't mean you want to listen to them make a racket all the time. Double pane windows are certifiably fantastic at reducing noise (and increasing neighborhood peace). Their extra layer of glass does a bit more than just keep conditioned air in your home, though, it also helps keep exterior sound out. Most homeowners I've talked to say they've slept more soundly after getting double pane windows installed in their home.
So, now that you're an expert on what soundproof replacement windows, i.e. double pane windows, are, and the many benefits they offer your home, let me ask you a question: doesn't that all sound nice (haha)? The expert team at Bell Brothers loves replacing windows for Stockton homes and we have decades of experience working with custom soundproof options. Our installation techs can give you a free estimate, recommend the perfect model of window and frame for your home, and answer any questions you might have about HERO financing. You'll love working with us almost as much as you love the new quiet in your home. After all, silence is golden. Or at least I think that's what they said—I couldn't quite hear them through my new soundproof windows.
Schedule an expert soundproof window replacement for your Stockton home today. Contact the experienced window, HVAC, and plumbing professionals at Bell Brothers now.
Wondering how to finance new windows for your home when the repairs just keep coming? HERO is a unique financing option that helps California homeowners afford energy efficient upgrades to their home. Contact Bell Brothers, a HERO-approved contractor, to learn more. Our local HVAC, plumbing, and window specialists will walk you through the entire process, from applications to installation.
Image courtesy Pixabay user La-Belle-Gallerie