Dial Math: What Should I Set My Vacaville AC to When I'm Not Home?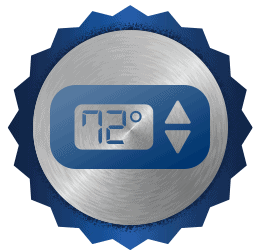 Hot weather may be par for the course at Vacaville summer events like the recent Rib and Chili Cook-off downtown, but when you get home from tasting Chili Cowtown Cantina's award-winning beans, you want to relax in the cool comfort of your air conditioned home.
I know we've all been tempted to keep our AC units running while we're out enjoying Vacaville's summer activities, but that's a good way to throw money out the window. We obviously want it to be cool when we are home, but we don't need it freezing when we walk in the door. If you let me do the math for you, you'll save money on your next energy bill with just a few adjustments, while maintaining your cool.
Save Money While Keeping Cool
When you aren't home, the real energy savings can begin. For every 1 degree you set your thermostat over 78, you'll save 5-8% on cooling costs. We recommend 85 in homes without programmable thermostats. That seems to be the magic number. You'll save money during the day, but it also won't take long to cool down your home once you crank the thermostat back down to 75 or 78 degrees.
Other Benefits of Raising the Dial
When your system isn't running all day long, it works less. That means less frequent filter changes (always a concern with Vacaville smog), fewer repair bills, and a longer lifespan. While most systems installed in houses today are only expected to last 10 years, you can easily squeeze more life from an old system if you don't ask too much of it when you're not there to enjoy its labors.
Similarly, if you install a new system expected to last 20 years or more, you'll get the most life from it with proper dial control. Many people have bad habits when it comes to their thermostat. And, not coincidentally, we do a lot of repair work on those people's systems.
Other Thermostat Considerations
No two houses are the same, so there are a few other things you should take into consideration when deciding where to set your dial when you are at home.
Stay-at-Home Pets:

If you have a dog, cat, or other pet, you may need to be careful of how high you raise your thermostat. The temperature in your house should be no more than 80 degrees if you have a pet. It's important that it remain stable so your pooch doesn't overheat at home.
The 60-Degree Myth:

Some people believe that lowering the dial to 60 degrees will make the system cool faster than setting it to 70 degrees. This is a myth—and it's also a good way to waste money due to excess cooling. The thermostat isn't like an accelerator pedal on a car; it just turns things on and off. When the thermostat heats up, it turns on, and when it cools to the requested temperature, it turns off.
Smart Thermostats:

Have you considered a

smart or programmable thermostat

? Controlled from your smartphone, smart thermostats are pretty impressive pieces of technology. Honeywell's Lyric thermostat is a great example. But even a regular programmable thermostat will be better than most standard options. Either will allow you to set certain times to come on and off, or different temperatures throughout the day.
If you install a smart or programmable thermostat, your AC could stay off the whole time you're at work, and then come on half an hour before you get off to ensure the house is perfectly comfortable when you walk in the door. For less than two hundred dollars, you could be saving twenty dollars or more every month. Which means the thermostat pays for itself within a year.
We all feel that we want to walk into an incredibly cool house when we've been out in the summer sun, but the truth is 78-80 degrees will already feel much cooler. You can then turn down the temp as you acclimate, and save yourself anywhere from 5% to 25% on your bills every month. Save money and consider upgrading to a smart thermostat—which will pay for itself by the end of 2017.
If you want to know more about thermostat control, or anything else HVAC related, give us a call. We're Vacaville's go-to for all HVAC needs.