What's the Best Way to Insulate Your Home?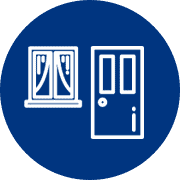 Insulation is a great way to save energy year-round. Considering the high costs of electricity and fuel, insulation is an inexpensive project that pays huge dividends.
According to the Energy Department, you can save up to 20% on heating and cooling costs by adding insulation and sealing unwanted air leaks. Unfortunately, 90% of U.S. homes are under-insulated!
Instead of running your heating system less to save on energy costs, invest in insulation improvements. This will allow you to use your furnace and air conditioner less, leading to longer equipment lifespan, lower energy bills every month, and increased comfort especially when it comes to your home's indoor air quality.
We get asked all the time about which insulation types and materials are best for the home, and it's a complicated answer since they all have their advantages and disadvantages.
While you may be able to accomplish some insulation projects yourself, it's best to consult with a professional first to learn more about what's involved. An experienced professional will be able to assess your home for inefficiencies and determine the best insulation upgrades and improvements for your situation.
Make sure to ask your contractor about air sealing. You want to seal air leaks before adding insulation.
What Is R-Value?
Before you start picking the best insulation for your home, first you need to know about R-values and the climate where you live.
Insulation is measured by its R-value, aka "thermal resistance"—the ability to reduce heat flow. The more resistance (R), the less heat flow through the barrier.
There are four main factors that determine R-value:
Density
Thickness
Type
Installation
The recommended R-values differ depending on where you live. Someone in a Mediterranean-style climate like Northern California won't need the same amount of insulation as someone in Alaska.
Here's where the Energy Department's R-Value Insulation Improvement Table comes in handy:
Most of California is located in Zone 3, which means you should have an R-value rating between R30 and R60 in your attic and R19 to R25 for your floors.
Best Types of Insulation
Insulation comes in many forms. Here are some of the most popular and effective types of insulation:
Spray Foam
Foam insulation can be sprayed, foamed-in-place, injected, or poured. The foam starts out very small and then quickly expands, allowing you to fill even the tiniest cavities. This doubles as an effective air and vapor barrier.
It's good for adding to existing insulation, oddly shaped areas, and around obstructions.
You can also use small canisters of expandable foam spray to fill in holes, gaps, and cracks around window and door frames, and electrical and plumbing components. Larger spray foam projects, however, require special equipment.
Speak with a professional insulation installer to decide which spray foam is best for you.
Loose-Fill (Blown-In) Insulation
Loose fill insulation is made up of recycled cellulose, fiberglass, or mineral (rock or slag) wool that gets blown into attics and walls with a special machine. Since the insulation pieces are so small, they can easily fill nooks and crannies. Look for insulation that has been treated with borates that prevent fire, mold growth, and vermin.
Use loose-fill or blown-in insulation for walls, attic floors, retrofits, and other hard-to-reach places. It's especially useful for adding to existing insulation and irregularly shaped areas. Blown-in insulation can also help reinforce aging attic frames.
Materials:
Cellulose
Fiberglass
Mineral (rock or slag) wool
Blown-in insulation requires multiple people and special equipment. Leave this one to the professionals.
Radiant Barrier (Reflective System)
Radiant barriers are especially useful for climates with hot summers and a lot of sunshine.
The radiant barrier deflects heat radiation from the sun. Reflective insulation also helps reflect radiant heat back into the home during winter.
Materials:
Typically, reflective insulation come in highly reflective aluminum foil with a variety of backing and insulation materials:
Kraft paper
Plastic film
Polyethylene bubbles
Cardboard
Seal air leaks around the home with caulk and expandable foam spray
Weather-strip all exterior doors and windows
Attic
The attic is the probably the first place you want to check when it comes to adding insulation. If your home doesn't have a thick and warm hat, heat can easily rise up and out of your home.
Make sure you have insulation between and over floor joists. In finished attics, insulate between studs behind "knee walls" and in the rafters and ceilings.
Additions and New Rooms
If you've made recent improvements to the home, have you considered insulation? In addition to insulating walls and ceilings, think about adding double-pane windows as well.
Installing Insulation
The most important thing when it comes to insulation is proper installation. For instance, if you are using loose-fill insulation, it's important to have an even layer rather than varying heights—flat over bumpy.
Similarly, you don't want any gaps or missing insulation. You want full, even thickness with essentially no gaps. Gaps can cause air infiltration or condensation, which is why strict attention to proper installation guidelines is essential.
Insulation costs vary widely depending on the type of insulation you choose. Speak with your local contractor for more information on actual costs.
Before you choose an insulation type, speak with a professional. They will be able to inspect your current insulation and recommend the best next steps, including air sealing.
If you do choose to add insulation yourself, always follow the manufacturer's instructions and safety precautions. Regardless, we highly recommend consulting with a professional first.
Insulation Types Recap:
By improving your insulation, it may allow for a smaller HVAC system. If you are considering replacing your HVAC system in the near future, it's in your best interest to seal air leaks and improve insulation first.
We know how important air sealing and insulation is when it comes to reducing energy, preventing pests, extending HVAC lifespan, and increasing comfort. We've installed insulation into every kind of space imaginable, and can assure you there's an ideal solution for your home—and your budget.
For homeowners in the Sacramento area, Bell Brothers is your local insulation, air sealing, and HVAC company that's been working in the community for generations. We're well-equipped to find the best insulation solution for you.
Looking for help with energy-efficient upgrades around the home? Bell Brothers offers a variety of Financing Options to fit your qualifications.
Call Bell Brothers today for your free in-home insulation evaluation!