The Fall Gas Furnace Inspection Checklist: What Every Homeowner Must Know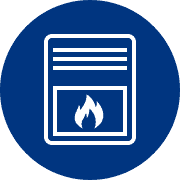 Every fall, I have the inevitable task of having to prep my house, yard, and pool for the cold weather. It's usually been a fun but exhausting summer, one that goes by way too fast, and then all of a sudden there I am contemplating the cold weather ahead and everything I have to do to prep for it.
To be totally honest, there's always a moment where I just stare into space with no idea where to start. But, I have a secret weapon: a checklist. That's right, each year I make a checklist of things like drain the pool, rake the yard, cover the AC unit and so on and so on and so on yet again. That checklist turns an overwhelming project into actionable tasks that I can easily wrap my head around.
Checklists work the same way for homeowners who need to handle the annual maintenance on their gas furnaces. I know that, for folks who don't work on furnaces all the time, it can seem like a really heavy lift. That's why today I want to share with you an easy gas furnace inspection checklist so you can get it all taken care of, one easy task at a time, just like I do with my house and yard.
The Homeowner's Gas Furnace Inspection Checklist
There's something so exciting about the fall—but with that excitement usually comes a feeling of overwhelm. With that in mind, I'm going to do my darndest not to overwhelm you with this gas furnace inspection checklist.
Instead of making a list of 20 items that require a lot of gas furnace expertise to understand, I'm going to keep things simple and manageable so that you feel empowered to get your furnace in gear for the fall and winter months ahead.
Here is my simple fall gas furnace inspection checklist:
Leave Furnace Maintenance to the Pros This Fall
Annual furnace maintenance is essential to keeping your furnace healthy and strong for as long as possible. It's also the best and easiest way to prevent problems from popping up during the fall and winter months when it's working its hardest.
At Bell Brothers, our trained HVAC professionals offer a complete, 30-point furnace tune-up during the fall months to prepare your furnace to run optimally, efficiently, and safely all winter long. Our maintenance checklist is incredibly thorough, and includes the following:
An air filter test and change

A system diagnostic test

A fan inspection

Pilot light checks

A full safety inspection
The best part is that with annual furnace maintenance you don't even have to worry about the above inspection checklist because the HVAC maintenance people will do all of that for you.
Let's face it, you've got enough to worry about in the fall, so why not take furnace inspection off of your plate and hand it over to the pros to take care of? That way, you can rest assured that your furnace will be in tip-top shape to keep your warm this chilly season.
At Bell Brothers, our trained HVAC professionals would be happy to perform maintenance on your gas furnace this fall so that it will run efficiently all winter long. Contact us today to schedule a free in-home consultation.
Wondering how to finance a new HVAC system, windows, or a plumbing project? HERO is a unique financing option that helps California homeowners afford energy efficient upgrades to their home. Contact Bell Brothers, a HERO-approved contractor, to learn more. Our local HVAC, plumbing, and window specialists will walk you through the entire process, from applications to installation.
Image courtesy Unsplash user Michael Mroczek