Custom Vinyl Replacement Windows: What Sacramento Homeowners Must Know
Bell Brothers is the best choice for custom made vinyl replacement windows in Sacramento homes. We offer professional and timely service, maintenance, and repairs for any custom window job. Get in touch with our No Surprise Guys today and we'll be happy to come take a look at your Sacramento home. Call 916-226-9799 seven days a week. Or, check out our online scheduling tool HERE.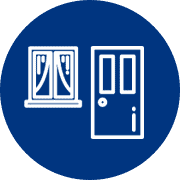 My nephew is away at college, so maybe it shouldn't come as all that much of a surprise to me that he's picking up some new and kind of surprising hobbies, like collecting old vinyl albums—the same kind that my parents sure had an awful lot of back when I was a kid. Now, I myself thought that these had gone the way of the dinosaur, but my nephew says no, they're back and the kids can't get enough of them.
Apparently, not only does he like to spend his weekends going around to record stores (which I guess are also somehow still a thing) in search of used and second-hand albums, but he says that he also uses online stores like Amazon to order brand new music on vinyl. Huh, go figure. All of this did, however, get me thinking about another type of vinyl that not enough people know about: custom vinyl replacement windows for Sacramento houses.
That's what I'd like to talk about here today. This chatter about vinyl albums is fun, but I'd much rather tap into my window company expertise to tell you fine folks about what vinyl windows are, what sort of benefits they provide for homeowners, and why they're such a good fit for houses in Sacramento.
What Are the Custom Vinyl Replacement Windows Installed in Sacramento Homes
Here at Bell Brothers, we have all kinds of custom window expertise, so it's no surprise to us when folks often want to ask us questions about windows. When it comes to vinyl replacement windows in Sacramento, I think the most common question is also the simplest: what exactly are vinyl windows? Obviously, actual windows are made of glass and not vinyl, right?
Well, here's the thing, windows consist of more than just the panes of glass. When we say custom vinyl replacement windows in Sacramento, what we're actually talking about is the material that makes up the window frames. Vinyl is, quite honestly, a common material when it comes to replacement window frames. It's made from rigid, impact-resistant polyvinyl chlorides, or PVC, and it has hollow chambers inside that can help resist heat transfer and window condensation, both of which are common problems here in Sacramento. Here at Bell Brothers, we've done vinyl replacement window jobs here in Sacramento for years, and we'd be happy to help you with yours!
Bell Brothers offers vinyl replacement windows Sacramento estimates and suggestions for homeowners, as well as other types of custom window work. Our experienced Sacramento window installation and repair company experts would be happy to give your home an informational visit, free of charge, anytime. Just call the No Surprise Guys at 916-226-9799. We're available to offer our expert advice 7 days a week. Or, use our online scheduling tool HERE. The price we quote for your project is the price you'll pay—guaranteed.
The Benefits of Vinyl Replacement Windows for Sacramento Homes
Vinyl windows, most homeowners are happy to find out, don't require any painting or finishing. Also, the material doesn't fade or rot, which prevents it from starting to look older and also cuts down on problems with insulation and lousy sealing. These are just some of the things that make vinyl replacement windows in Sacramento so appealing.
The primary benefit of vinyl replacement windows is that they are far more energy efficient than most of the other window frame options on the market.
The primary benefit of vinyl replacement windows is that they are far more energy efficient than most of the other window frame options on the market. This is especially a good thing in our region where there are ample window replacement programs for homeowners who want to invest in options that make their homes more energy efficient. Here at Bell Brothers, our experts can help you schedule your window replacement job, as well as take advantage of the many financing options in our region, like PACE, CaliforniaFIRST, SMUD, HERO, or Ygrene energy efficiency.
Why Vinyl Replacement Windows Are Best for Sacramento Homes
The last thing that most homeowners want to know about installing custom vinyl replacement windows in Sacramento is why this particular material is such a good fit for the Northern California region. Well, as you may have noticed, we touched on this earlier. It has to do with the properties of the material that makes up the frames.
See, vinyl replacement windows are great because they cut down on heat transfer, so during the hot and dry Sacramento summer, the heat outside won't transfer through the window frames into your home, keeping things cooler indoors. Conversely, these frames also reduce window condensation, which is great for the cool and wet winters that we have here. It's a win-win!
I think now you know just as much about vinyl replacement windows in Sacramento as I do about my nephew's hobby collecting vinyl records. That is to say, you know a little bit, but could likely stand to know quite a bit more. That's where the pros here at Bell Brothers come in.
We can answer all the questions that you might have about installing custom vinyl replacement windows in your Sacramento home. We can also get down to the business of giving you estimates and more info about custom jobs for your unique home. All you need to do is give us a call today!
Contact us today to schedule a free in-home consultation for vinyl replacement windows work for your Sacramento home. At Bell Brothers, our trained custom window installation and repair professionals would also love to help you make your house more energy efficient by installing double pane windows, new insulation—or helping you get started on switching to a smart thermostat.
Wondering how to finance new energy efficiency upgrades such as a furnace or even plumbing modifications? HERO is a unique financing option that helps California homeowners afford energy efficient upgrades to their home. Contact Bell Brothers, a HERO-approved contractor, to learn more. Our local HVAC, plumbing, and window specialists will walk you through the entire process, from applications to installation.
Image courtesy .shock